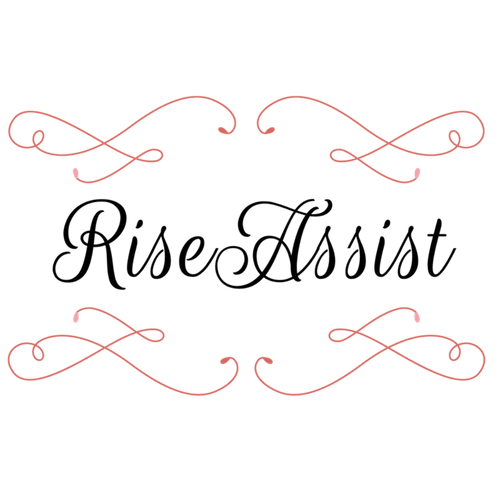 ---
For event details contact our Seychelles event organizer, Marie Cecile Esparon, MC Consultancy Seychelles,
Tel: +248 2632848
Are you ready to become a Careerist Personal/Executive Assistant and work with great business minds as their right hand?
Are you ready to earn your next "Business Partner" title ?
If the answer is YES, our House of Seychelles Personal Assistants` Career Rise bootcamp is for YOU.
Only 40 seats available!
Our full-day Bootcamp event will prepare you to the real working life of an Executive Assistant to C-Suite!
When: Monday, 8 October 2018, 9:00 am -5:00 pm
Where: Savoy Resort Conference Venue, Beau Vallon, Seychelles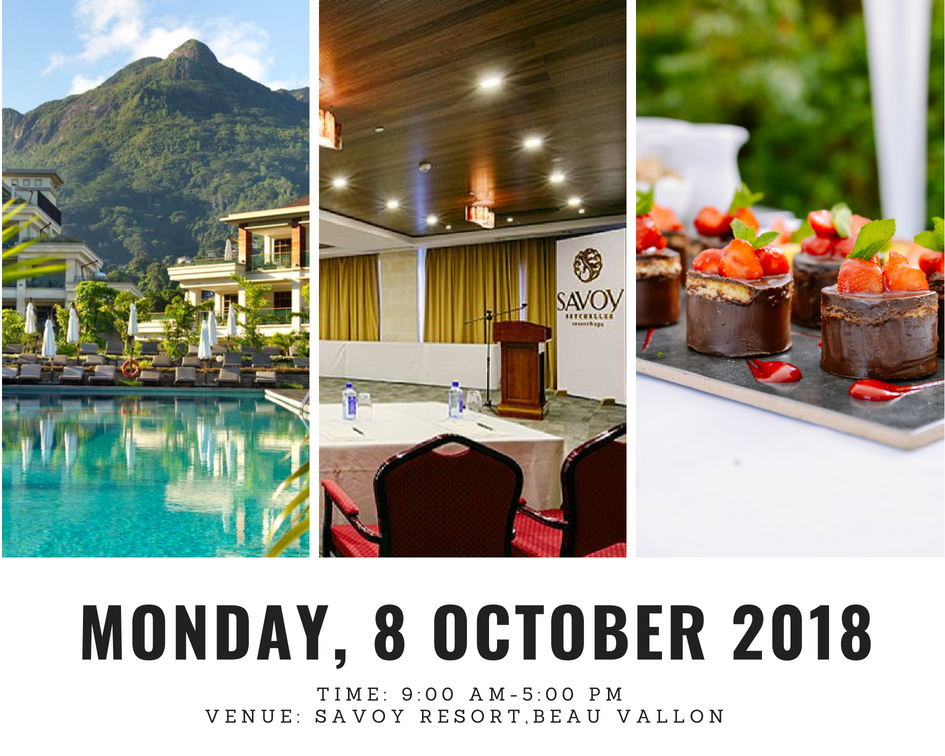 Got Questions about the event?
Contact our local Seychelles event organizer, Marie Cecile Esparon, MC Consultancy Seychelles,
Tel: +248 2632848
About the Event:
After training & coaching 100s of women since 2016 we have identified their main career struggles. They usually are:
1. Find a job that suits their terms and pays well
2. Get a promotion
3. Progress further from a "dead-end" admin job to the next level
After winning the Excellence Award for Best Women Unemployment Solutions by MEA Markets in 2018 we felt responsible for solving this problem and we decided to set the tone by offering practical immediate help to those, who need it most.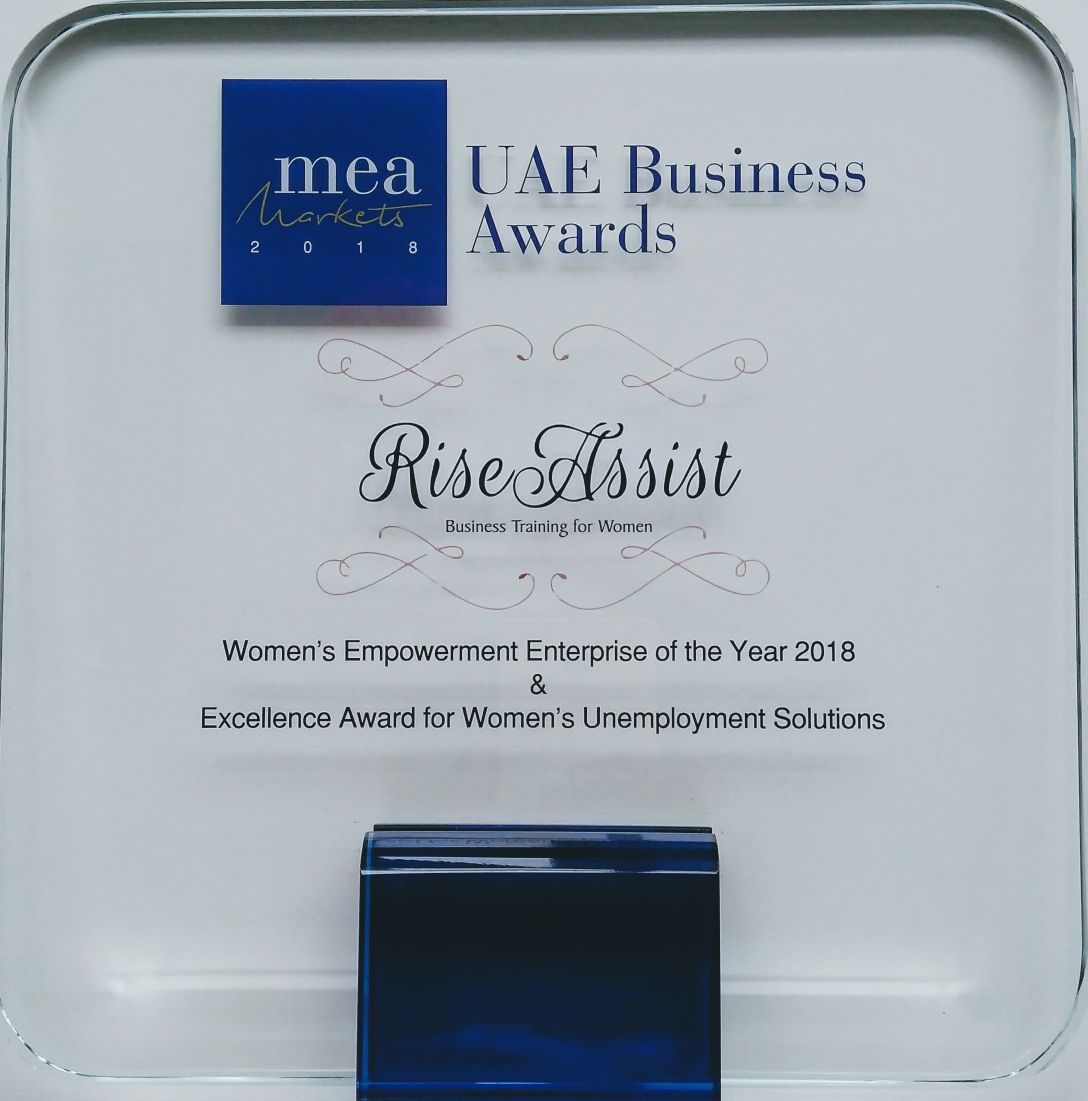 The House of PA Career Rise by RiseAssist is a first of its kind initiative which focuses on uplifting local administration professionals through empowering education, confidence boost, career clarity and focus shaping, as well as an art of creating their own opportunities.
We want to help as many people as possible build their dream career in administration this summer!
---
Bootcamp Format:
The goal of the first boot camp is to prepare women to the realities of C-Suite/HNWI PA working life and career, find their focus and gain their confidence back.
---
What will you learn during this 8 hours long practical, apply-in-class boot camp: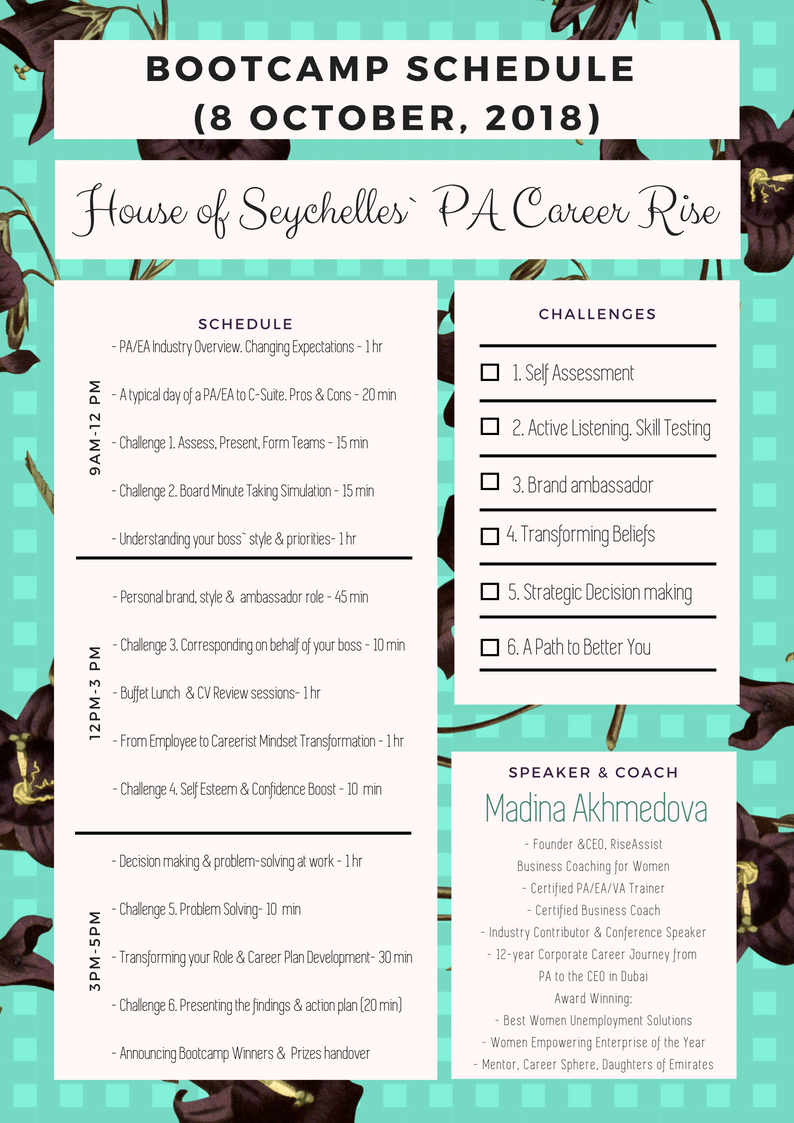 Training Outline:
- PA/EA Industry Overview. Changing Expectations - 1 hr
- A typical day of a PA/EA to C-Suite. Pros & Cons - 20 min
- Challenge 1. Assess, Present, Form Teams - 15 min
- Challenge 2. Board Minute Taking Simulation - 15 min
- Understanding your boss` style & priorities- 1 hr
- Personal brand, style & ambassador role - 45 min
- Challenge 3. Corresponding on behalf of your boss - 10 min
- Buffet Lunch & CV Review sessions- 1 hr
- From Employee to Careerist Mindset Transformation - 1 hr
- Challenge 4. Self Esteem & Confidence Boost - 10 min
- Decision making & problem-solving at work - 1 hr
- Challenge 5. Problem Solving- 10 min
- Transforming your Role & Career Plan Development- 30 min
- Challenge 6. Presenting the findings & action plan (20 min)
- Announcing Bootcamp Winners & Prizes handover
You are going to leave this even with a clear understanding of your personal career situation, action plan to fill the gaps (if any), boosted confidence and your personal career transformation road map.
You will learn about new career opportunities, result-oriented application techniques and enhanced presentation.
Every attendee will have their CV reviewed during the Career Clinic Sessions followed by personal ready-to-apply career recommendations.
---
What will you get:
7 hours training, coaching and practical application

14 pages printed career planner and journal

Bonus: Lifetime access to an online course "How to Find a Job through 10-Steps RESPONSE Framework" by RiseAssist

Certificate of attendance

Discount coupons for career coaching

Surprise bonuses from our amazing sponsors
---
How can you book your seat:

Click on "Register Now" button to book your seat.
Got Questions? Email us at info@riseassist.net
Only 40 seats available!
---
Please note that we will not be able to accept late registrations due to limited physical seats capacity, make sure you book your seat in advance to avoid disappointment.
---
What do our students say?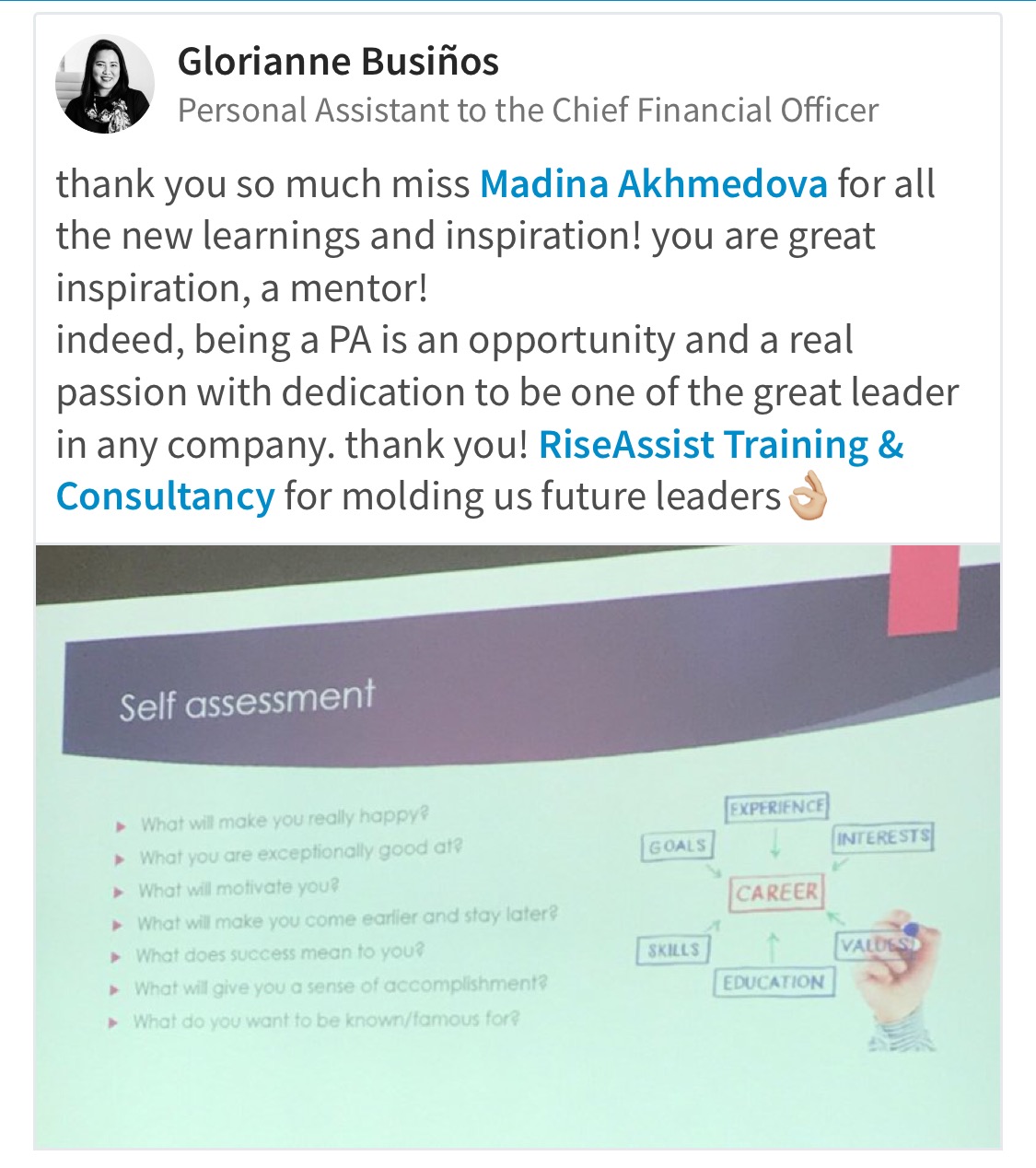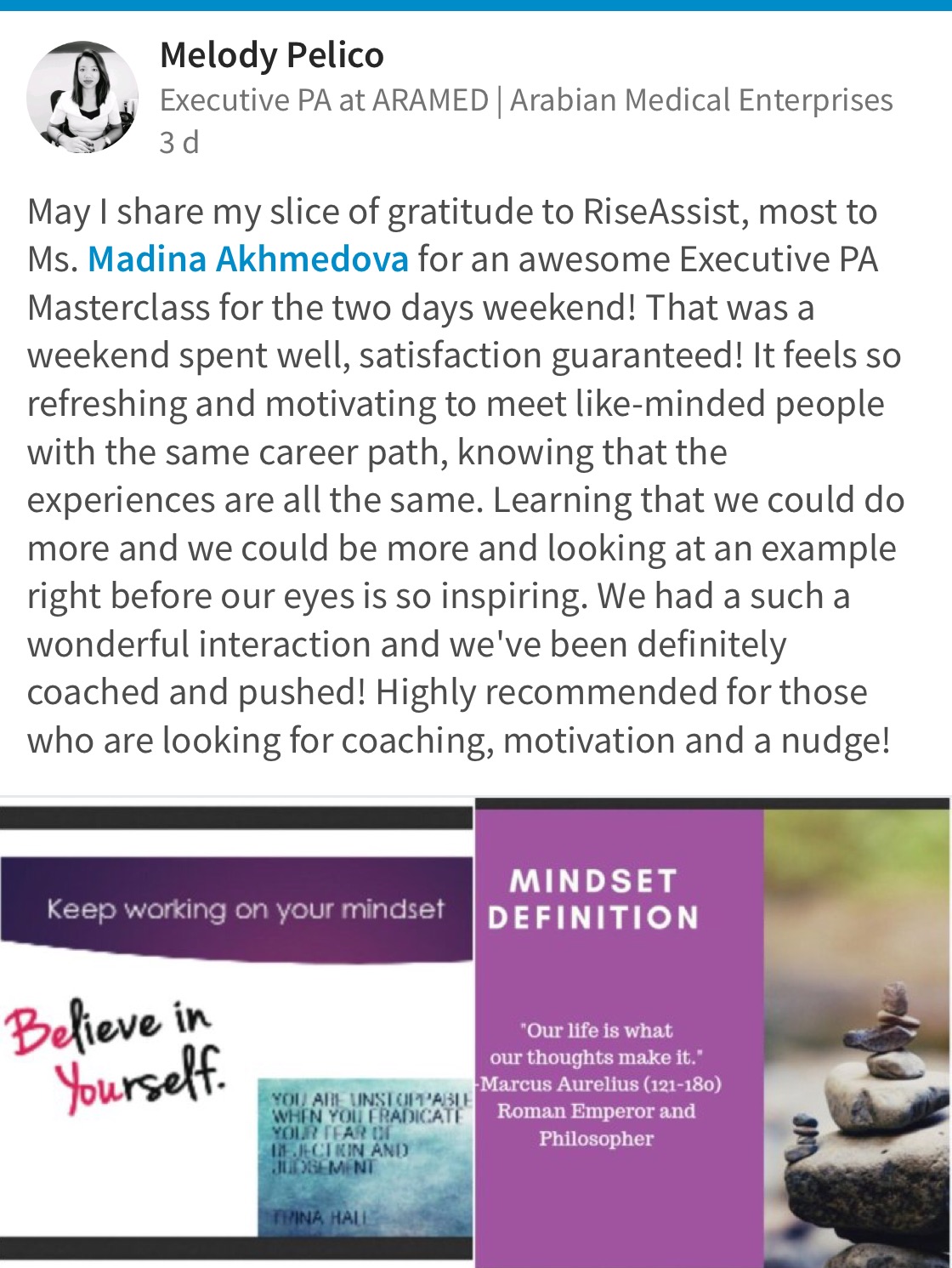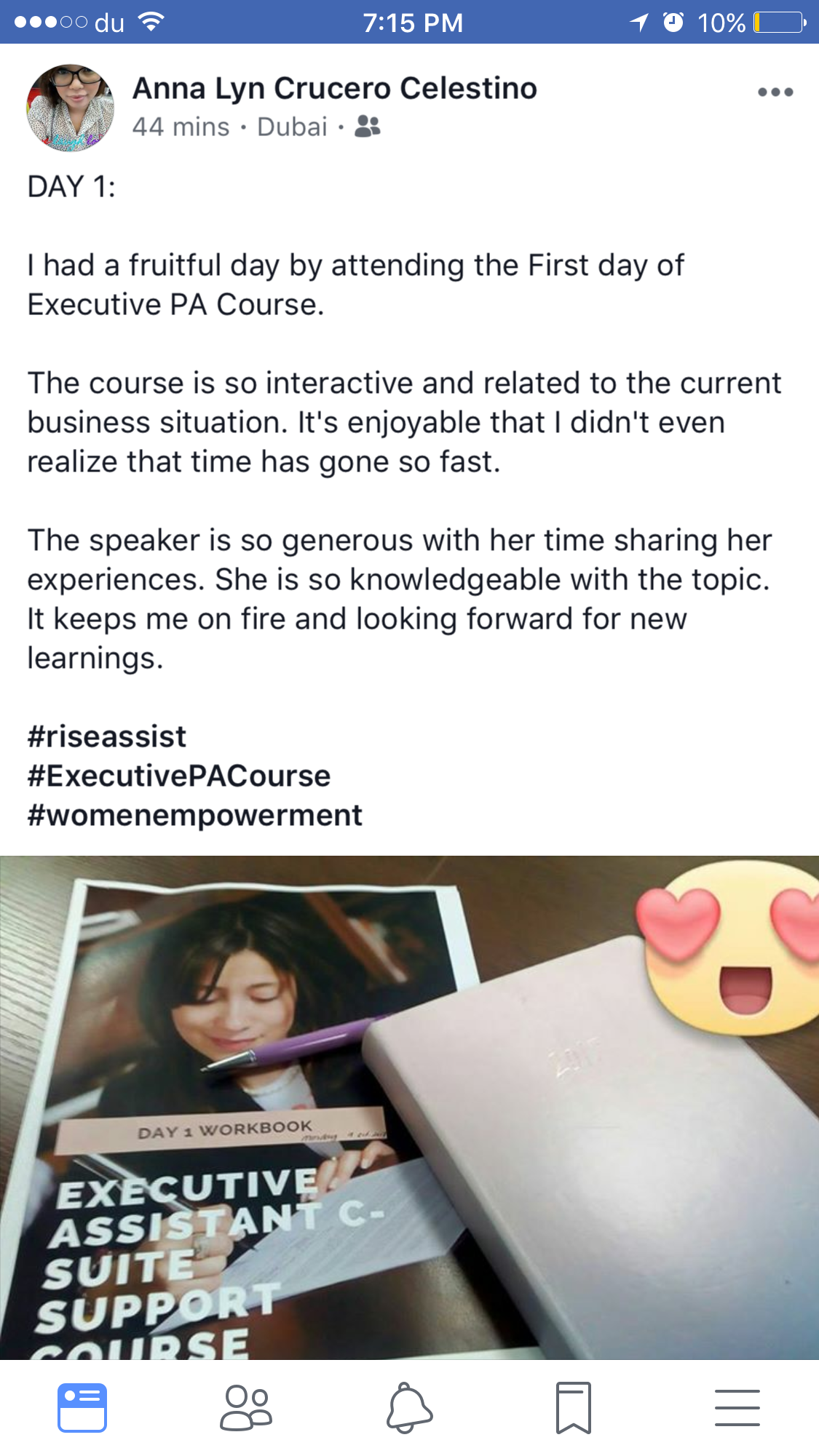 Got Questions about the event?
Contact our local Seychelles event organizer, Marie Cecile Esparon, MC Consultancy Seychelles,
Tel: +248 2632848